Welcome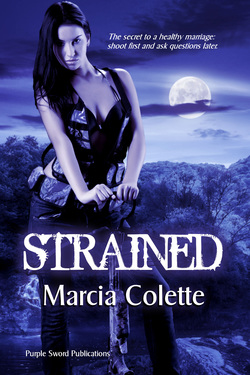 News
I'm thrilled to announce Alexa York will hit the scene again in book #3 on December 14th with my newest release Strained. Just in time for Christmas! Also, I'm running a Review Tour with Goddess Fish Promotions from December 31st to January 21st. There's a $15 gift certificate at stake, so watch my blog for more details on where you can sign up to win.

STRAINED is available! Get your copy today.

The secret to a healthy marriage: shoot first, ask questions later.
Alexa is keeping a secret from her husband and being half werewolf isn't it. After all, he's a full-blood and doesn't care that there are those who think their union is an abomination. Despite their abnormalities, the Yorks have settled into suburbia and gone out of their way to look like the couple next door.
More>>
Recent Releases
Stricken (Alexa York #2)
The Light at the End of Judgment and Day
The Portal Guards


Works In Progress
TBD, Genevieve York (Urban Fantasy)
TBD, The March Clinic for Supernatural Maladies #1 (Urban Fantasy) - Series
The Grave at the Edge of False and Prophet, Yvette Mills #2 (Paranormal)
---
---
Guest Appearances*
ConCarolinas - Charlotte, NC
AtomiCon - North Charleston, SC
*Dependent upon my kiddo's school calendar. Sorry folks, but she comes first.